Your Home.
Our Care.

Dignity, Respect, Compassion, Love
Helping Seniors Age in Place
with Compassion, Dignity & Respect
Home Care with a Sense of Purpose
We're dedicated to assisting with various aspects of daily life, including personal care, safety, and enhancing quality of life for your elderly loved one. Our mission is to deliver the highest level of care, emphasizing the values of love, dignity, compassion, and respect, which are deeply ingrained in our caregivers.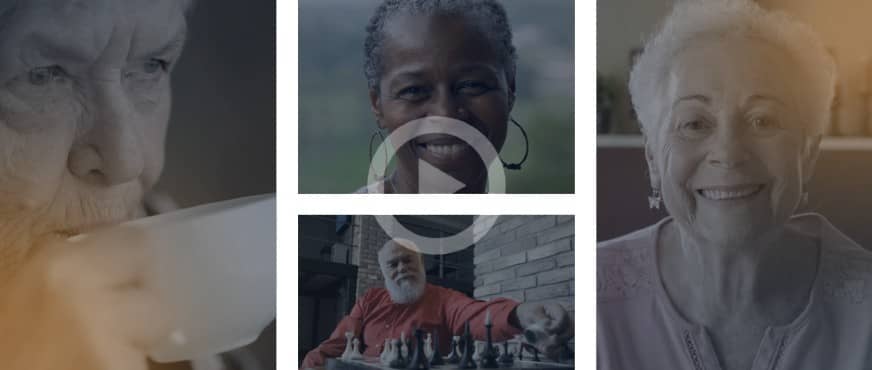 Click the Play Button and Get Inspired
A Message From the Owners
Thank you for taking the time to visit our website. We understand how difficult it can be for a family to trust a stranger with a loved one's care – We have been there too. When my mother-in-law Pat was diagnosed with Dementia several years ago, it caught us off guard. Like many families, we were not fully prepared to deal with what was to follow. The physical, emotional and financial challenges we faced, while providing full-time care to a loved one, led to feelings of beingoverwhelmed. However, despite all the challenges we faced, taking care of an elderly loved ones was one of the most rewarding and satisfying experiences of our lives. We felt so strongly about the need for high quality home care that we left our professional careers and dedicated our lives to helping other families going through similar experiences. We started Assisting Hands of Frederick with one goal in mind – To provide exceptional home care that enriches the lives of our clients and provides peace of mind to their families.

Troy & Jodee Rudy, Owners
Home Care Plans Tailored to the Unique Needs of Our Clients
At the core of our approach lies a need to understand our clients on a deeper level. We take the time to truly know their needs, interests, and preferred activities—everything that matters to them. With the guidance of our devoted Care Management team, we collaboratively create a personalized in-home care plan that perfectly aligns with your loved one's uniqueness. What's more, you retain the flexibility to adapt the care plan as your loved one's needs naturally evolve.
The Perfect Caregiver Match
At Assisting Hands, we strongly believe that providing the highest quality of care depends on finding the perfect caregiver match. In addition to their experience and training, we understand that caregivers with loving hearts can truly make a significant impact on the lives of our clients. When we select a caregiver, we always ask ourselves a crucial question: "Would we trust this individual to take care of our own parents?" If the answer is yes, our clients can rest assured that their loved ones are in the most capable hands. Once your caregiver is chosen, he or she will be able to help with a wide range of essential tasks:
Assisting with personal hygiene, including bathing, grooming, dressing, and handling incontinence
Preparing meals, grocery shopping, and ensuring proper nutrition
Taking care of light housekeeping, laundry, and changing bed sheets and linens
Providing reliable transportation for errands, medical appointments, and social events
Offering support with mobility, bed and wheelchair transfers, and toileting
Assisting with medication reminders, including prescription pickup
Ensuring safety monitoring and implementing fall prevention measures
Providing cognitive stimulation and emotional support
Offering companionship and facilitating social interactions
Delivering specialized care for individuals with Alzheimer's or Parkinson's disease
Ease Your Mind with Assisting Hands Home Care
When the time comes to seek home care for your loved one, we know the process of finding the right partner can be daunting. We offer a stress-free experience that provides solutions to your concerns and ensures a high quality of life for your loved one. Give us a call to discuss how we can help you.
How to Get Started
Seeking the perfect home care partner may seem daunting, but rest assured, we're here to make the entire process seamless. We believe that selecting the ideal caregiver for your loved one is a monumental decision, and we fully commit ourselves to be attentive listeners, empathetic to your worries, and adept at offering solutions that grant you and your family peace of mind. We eagerly anticipate the opportunity to connect with you, learn about your requirements, and discover more about how we can be of assistance.
In our difficult time, Assisting Hands was the constant presence in my life to provide me with the emotional and physical support we so desperately needed. The staff was warm, kind and friendly. They treated my husband and I like family.
– Carol S.
You had the perfect caregiver for my husband. I really mean perfect, he wouldn't listen to me and I needed someone strong who would get him active and motivate him to do his PT. The caregiver didn't just sit there he had a routine with him. He became stronger over the months with Assisting Hands. I appreciated the ease of dealing with both owners Jodee, Troy and caregivers. I was never once dissatisfied or worried that someone wouldn't show up. I knew he was taken care of while I was at work.
– Kathy H