Expert In-Home Care for Your Senior Loved One
At Assisting Hands Home Care, we know finding the right care for your senior loved one is a top priority. We've built our reputation on providing compassionate, dignified, and respectful in-home care that goes beyond just meeting basic needs. Our team of professionals is dedicated to ensuring your loved one is matched with the perfect caregiver to meet his or her unique needs. We offer a wide range of services that promote independence, safety, and quality of life.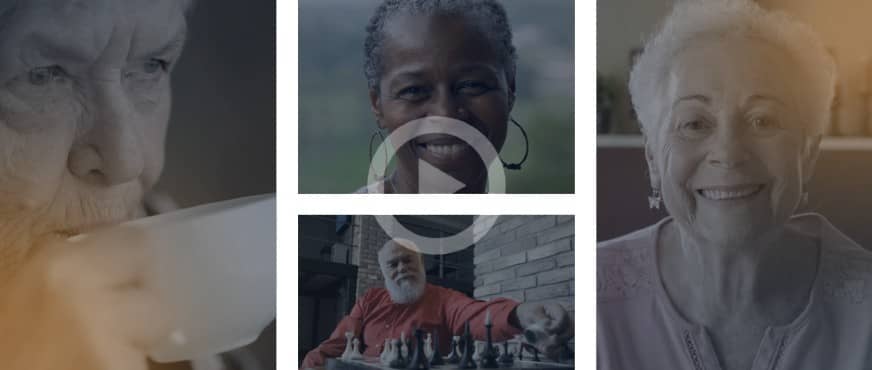 Click the Play Button and Get Inspired
A Message From the Owners
Thank you for taking the time to visit our website. We understand how difficult it can be for a family to trust a stranger with a loved one's care – We have been there too. When my mother-in-law Pat was diagnosed with Dementia several years ago, it caught us off guard. Like many families, we were not fully prepared to deal with what was to follow. The physical, emotional and financial challenges we faced, while providing full-time care to a loved one, led to feelings of beingoverwhelmed. However, despite all the challenges we faced, taking care of an elderly loved ones was one of the most rewarding and satisfying experiences of our lives. We felt so strongly about the need for high quality home care that we left our professional careers and dedicated our lives to helping other families going through similar experiences. We started Assisting Hands of Frederick with one goal in mind – To provide exceptional home care that enriches the lives of our clients and provides peace of mind to their families.

Troy & Jodee Rudy, Owners
Personalized Home Care Plans
Assisting Hands Home Care takes a personalized approach to in-home care. We know one- size-fits-all never works when it comes to senior care. Our caring and compassionate team takes the time to get to know your loved one's unique needs, interests, and hobbies. We work closely with you and your family to develop a customized home care plan that's just right for your loved one. The best part? We're flexible to adjust the plan as your loved one's needs change over time.
Perfect Caregiver Matching
We believe the key to providing high-quality in-home care lies in finding the perfect caregiver match. Our team carefully selects caregivers based on their skills, experience, and—most importantly—their compassionate hearts. We put ourselves in your shoes and ask the question, "Would we trust this person to take care of our own parents?" If the answer is yes, we know our clients can feel good about their loved ones being in the right hands.
Comprehensive Services
At Assisting Hands Home Care, we understand everyday tasks can be a challenge for seniors. That's why our caregivers offer comprehensive services that go beyond basic needs. Our services include personal hygiene such as bathing, grooming, dressing, and managing incontinence. We also offer meal preparation, light housekeeping, laundry, transportation, and companionship services. Our caregivers can also help with safety monitoring, fall prevention, cognitive stimulation, and emotional support.
Premium, Concierge Care
Our commitment to our clients goes beyond basic home care. As our client, you'll have access to our special concierge care services. Our caregivers are our employees, and they'r thoroughly trained, supervised, and insured so you can trust the care you receive.
Ease Your Mind with Assisting Hands Home Care
When the time comes to seek home care for your loved one, we know the process of finding the right partner can be daunting. We offer a stress-free experience that provides solutions to your concerns and ensures a high quality of life for your loved one. Give us a call to discuss how we can help you.
How to Get Started with Home Care in Frederick
The process of finding the right home care partner can be overwhelming. We strive to make the transition as easy as possible. Choosing the right caregiver for a loved one is a BIG deal. We promise, when you call us for Frederick home care, you'll find us listening to your needs, understanding of your concerns, and offering solutions that give you and your family peace of mind. We look forward to speaking with you and learning more about your needs. You can reach us at (301) 747-0727
In our difficult time, Assisting Hands was the constant presence in my life to provide me with the emotional and physical support we so desperately needed. The staff was warm, kind and friendly. They treated my husband and I like family.
– Carol S.
You had the perfect caregiver for my husband. I really mean perfect, he wouldn't listen to me and I needed someone strong who would get him active and motivate him to do his PT. The caregiver didn't just sit there he had a routine with him. He became stronger over the months with Assisting Hands. I appreciated the ease of dealing with both owners Jodee, Troy and caregivers. I was never once dissatisfied or worried that someone wouldn't show up. I knew he was taken care of while I was at work.
– Kathy H